Exiting Lockdown: Key Risks and Considerations for Businesses - Webinar recording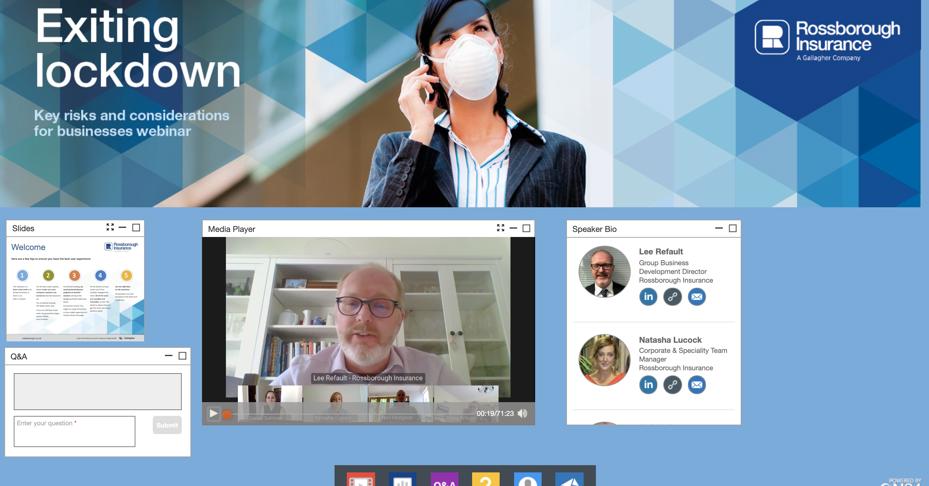 COVID-19 has likely put both your businesses and your management teams under significant pressure. You've had to make critical moral and legal decisions in the interests of your business, your colleagues, customers and stakeholders.
Now it's time to plan your 'new normal' and how you might safely phase your employees back into the workplace.  Your decisions may be judged and failures to plan properly could derail your recovery or result in litigation or reputational harm.
Rossborough, in conjunction with parent company Gallagher and law firm, Collas Crill, hosted a webinar this week highlighting some key risks faced by businesses when returning to work and trading during the COVID-19 pandemic including:
Health and safety requirements and the need for risk assessments
The duties of directors and senior leadership
Employment challenges and the risk of actions brought by employees for injury or employment practice claims
If you missed this informative event, you can watch it here:
https://event.on24.com/wcc/r/2376945/30B89F70A63465C545472992F9347AAF
* Rossborough is an insurance broker and shared its views in that capacity. This webinar is not intended to give legal or financial advice, and, accordingly, should not be relied upon for such. In preparing this webinar we have relied on information sourced from third parties and we make no claims as to the completeness or accuracy of the information contained herein. It reflects our understanding as at May 2020. You should not act upon information nor determine not to act, without first seeking specific specialist advice. No third party to whom this is passed can rely on it. We and our officers, employees or agents shall not be responsible for any loss whatsoever arising from the recipient's reliance upon any information we provide herein and exclude liability for the content to fullest extent permitted by law. Should you require advice about your specific arrangements or circumstances, please get in touch with Rossborough.